HAT-SAN Shipyard is an affiliation of "PEKAR GROUP". PEKAR GROUP which had already been into mining, construction, foreign trade and energy business, made a decision in 2006 to invest in shipbuilding and marine business. Thus they became a member of "Shipyard Entrepreneurs INC. (Tersane Girişimcileri A.Ş.) for starting shipyard investments in the allocated area for shipyards in Altınova / Yalova.
Based on an area of 50.000 m², HAT-SAN Shipyard completed its fundamental investments in 2007 with a 2×125 tons gantry crane on a 52×180 m. slipway and a 6000 m² closed production area equipped with 5 pieces of gantry cranes.

Closed production area also contains a plate bending machine and a profile bending machine; two pieces of CNC cutting machines. With these investments HAT-SAN Shipyard started new building activities in 2008.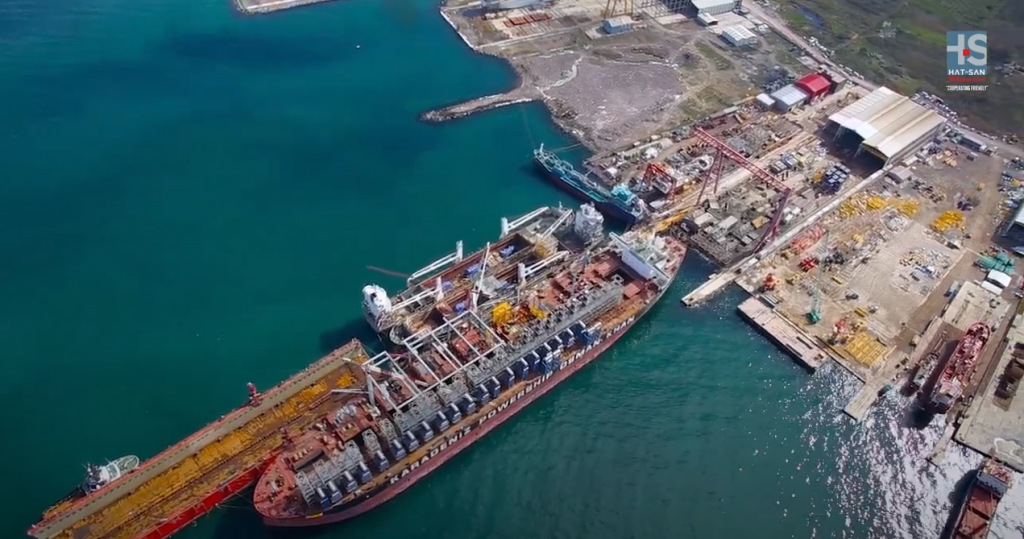 In addition to above, HAT-SAN SHIPYARD continued its investments in 2013 with building its own floating dock of 180×30 meters and extending the piers to 215 and 150 meters. Since June, 2014 the yard commenced to serve in repair and maintenance activities. Second new building slipway of 170×24 meters was constructed; closed block production areas have been extended and outfitted with new cranes. Construction of the administration building, warehouse for new building equipments, machinery workshop was completed by end of 2014.
To support expanding new building and repair services the yard has two transformers of 1600 kVA each, two sets of CNC cutting machines, a 200 tons bogs press, a 400 tons bending press, 6 gantry cranes in closed production area (a 50 tons, 2 pieces of 30 tons and 3 pieces of 10 tons). Social facilities were settled for employees of the yard and subcontractors which are enough to accommodate more than 500 people. Investments for painting hall and additional block production spaces are on progress.
Since 2014 HAT-SAN Shipyard also serves its clients in conversion segment. Largest capacity power ship in the world (550MW electric power production) is under construction at the yard. In addition two more handy size vessels are being converted for the same concept. Lengthening and complete refitting of a Live Fish Carrier for Norwegian Owners is in progress at HAT-SAN Shipyard.
HAT-SAN Shipyard's experienced and industrious management successfully lead fresh investments to build any type of vessel or marine construction in turn-key basis and to carry out ship repair/maintain works. The yard also serves for different type conversion projects with its piers and slipways. Among the others the yard has already delivered an oil product tanker, four pieces purse seiner/trawler hulls (painted and outfitted), a work barge. Presently, HAT-SAN Shipyard has satisfactorily repaired around 63 vessels within 20 months since the start of operation of its home built floating dock in July 2014 until February 2016. We are proud to announce that our floating dock "HAT-SAN DOCK 1" has been sold and delivered to our client in middle of March 2016. We will continue our ship repair activities soon with a "panamax size" floating dock by increasing our capacity. Four different conversion projects are handled at the moment at the yard and more projects are expected in the near future.